Shopping Cart
Your Cart is Empty
Thank you for your business!
You should be receiving an order confirmation from Paypal shortly.
Exit Shopping Cart
The power of prayer, intercession and encouragement
EVANGELIST LORNA FOR SUCH A TIME AS THIS......
NEW INFORMATION....ABOUT US....
M.O.P
GOD CAN DO IT AS WE STAND IN THE GAP FOR YOU....
MINISTRY Of PRAYER INTERNATIONAL, INC.
MINISTRY OF PRAYER WAS created in March 2007. It originated from our Ministry of Prayer group on Hi5. After opening an online prayer room in Black Planet for one season, Holy Spirit instructed us to establish Ministry of Prayer on the Paltalk website in February 2008. This success has manifested itself into a need for online ministry hence the birth of the official website " ministry of prayer.us " and one of our groups of intercessors on Facebook over 9,102 strong by the grace of God.
In 2011 God began to do a new thing in Ministry of Prayer and we are now an outreach ministry in the physical locations of Florida, Kansas and Jamaica W.I. Please read sections below to learn how these outreaches help and minister to others. You are invited to join us on facebook or any of these locations. Please feel free to send prayer requests and comments to:
[email protected] . We have watchmen ready to pray for your needs.
If you wish to send donations/seed to Ministry of Prayer/ your prayer request please mail to:
Evangelist Lorna Fox-McLeod c/o
Ministry of Prayer Int'l
504 Kemp Blvd Apt 139
Wichita Falls TX 76301
KANSAS PRAYER BREAKFAST 2012
TAKEN AT VICTORY LIFE CHURCH IN
COLUMBUS KANSAS. "STORMING THE GATES.
BELOW AT MAPLES UNCOMMON HOTEL IN COLUMBUS KANSAS. PRAYER BREAKFAST 2012
Our Visit to Jamaica...2014..
JAMAICA HERE WE COME!!!
And we did went to Jamaica
MINISTRY OF PRAYER Breakfast and Storming The Gates 2.In St Ann's Bay Jamaica . Saturday 2, August 2014. Here are some pictures....We also visited our outreach Ministry....
Some pictures of Ministry of Prayer Outreach in Jamaica in the field: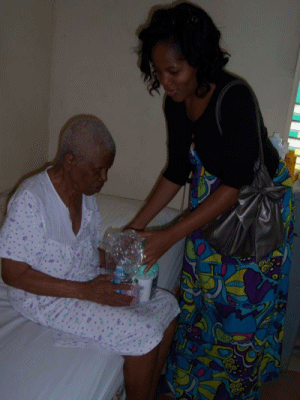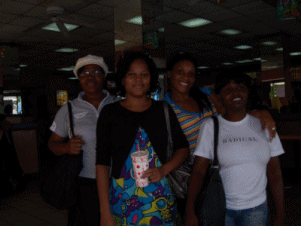 OUT REACH MINISTRY IN JAMAICA 01-04-2014
IF YOU HAVE NEVER ACCEPTED JESUS AS YOUR SAVIOR;
JESUS IS THE CURE: PLEASE PRAY THIS PRAYER:
HEAVENLY FATHER, I BELIEVE THAT JESUS CHRIST
IS THE SON OF THE LIVING GOD AND BESIDE HIM
THERE IS NONE OTHER. I RECOGNIZE I HAVE SINNED
AND HAVE NEED OF A SAVIOR. I ASK THAT YOU FORGIVE
ME FOR MY SINS. I INVITE JESUS CHRIST INTO MY
HEART TO LIVE IN ME AND BE LORD. I THANK YOU
FOR THE SALVATION PURCHASED FOR ME AT CALVARY.
I THANK YOU THAT I AM SAVED! AMEN
NOW, IF YOU ARE NOT ALREADY IN CHURCH PLEASE
GET IN A BIBLE BELIEVING, BIBLE TEACHING CHURCH
SO YOU WILL BE SURROUNDED WITH OTHERS OF LIKE FAITH
REMEMBER TO PRAY (TALK TO GOD IN YOUR OWN WORDS)
AMD READ THE BIBLE, EVEN IF ITS ONE VERSE A DAY.
CONTINUE TO GROW IN HIM.
** A SUGGESTION: BEGIN IN JOHN 1. "IN THE BEGINNING
WAS THE WORD AND THE WORD..."
MINISTRY OF PRAYER RADIO.. IS OFF THE AIR UNTIL FURTHER NOTICE...THANK YOU...
BREAD OF HEAVEN, WE RECEIVE BY FAITH BLESSINGS UPON ALL THOSE VISITING THIS SITE. WE THANK YOU THAT YOUR HAND IS UPON US FOR FAVOR Psalm 84:11
For the LORD God is a sun and shield; the LORD bestows favor and honor; no good thing does he withhold from those whose walk is blameless. WE DESIRE YOU MORE THAN THE PHYSICAL FOOD. Psalm 42:1 As the deer pants for streams of water, so my soul pants for you, my God. WE GIVE OURSELVES AWAY THAT YOU MOLD US AND MAKE US AFTER YOUR WILL.
Isaiah 64:8 Yet you, LORD, are our Father. We are the clay, you are the potter; we are all the work of your hand
LEAD US DEAR LORD IN THE WAY THAT WE SHOULD GO. Psalm 37:23 The LORD makes firm the steps of the one who delights in him; SHOW US YOUR PATHS, TEACH US YOUR TRUTHS THAT WE MAY KNOW YOU ALL THE MORE. Philippians 3:8 Yea doubtless, and I count all things but loss for the excellency of the knowledge of Christ Jesus my Lord: for whom I have suffered the loss of all things, and do count them but dung, that I may win Christ. KEEP US LORD AS THE APPLE OF YOUR EYE AND USE US ACCORDING TO YOUR WILL. 1 Corinthians 3:16 Know ye not that ye are the temple of God, and that the Spirit of God dwelleth in you? AND WE REJOICE AND ARE FOREVER SO GRATEFUL TO BE YOURS. IN JESUS NAME AMEN. John 10:28
And I give unto them eternal life; and they shall never perish, neither shall any man pluck them out of my hand.
I hope you have enjoyed the tour of Ministry of Prayer but before you go please sign Our Guest Book. God bless you.
0

/