Shopping Cart
Your Cart is Empty
Thank you for your business!
You should be receiving an order confirmation from Paypal shortly.
Exit Shopping Cart
The power of prayer, intercession and encouragement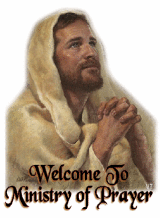 This site is sacred no mess is allowed...
Great web site
Thank you David. We are glad you liked it..Help us to spread the good news..
david C
6:51 AM on April 1, 2013
Great web site
Phil
2:11 AM on September 13, 2011
Please Pray my soulmate has already been prepared for me and I have already been prepared for my soulmate.Pray GOD unites me and my soulmate together real soon.Never been on a date or ever had a girlfriend and been Praying and hoping for this for at least 18 years...Prov 13:12 Hope deferred maketh the heart sick, but when the desire cometh, it is a tree of life... Please Pray GOD Blesses me so i can Bless others in every way every day of my life.Pray I can help people who are targeted by every kind of evil 100% of the time.Pray GOD Blesses me to be able to expose evil 100% of the time and evil will not be able to hide once exposed.Pray a hedge of protection around mind body and soul. Pray GOD overflows me with HIS Power,HOLY SPIRIT and Presence in my life. Pray the HOLY SPIRIT is so strong in my life that satan and his servents will flee with terror because GODS presence is so strong in my life. Pray my body would be a strong vessel for the HOLY SPIRIT. Pray GOD causes satan and those used by satan great confusion when they come against me with their evil plans and Pray GOD sends His angels to to fight along side me when is happens.Pray GOD cuffs me in His Hand when evil comes against me.Pray GOD raises me lightyears above satan and those used by satan to glorify GOD.Pray GOD watches over me at all times.Pray GOD takes away all my fear and increases my faith.Pray GOD heals my body completely.Pray all the people that have seen my Prayer Requests in past years will be reminded to Pray for my Prayer Requests again.Pray all the people who saw my Prayer Requests in the past years will have it put it in their hearts and minds to Pray for my past Prayer Requests again...In JESUS Name Amen...Thanks for your Prayers...
Shane Fisher
1:28 AM on June 28, 2011
I love your site and all of the information available. It is so refreshing to visiting Christian sites such as yours.
Velma
12:58 PM on May 29, 2011
Thanks for the invitation to join and I am blessed!
Min. Sharon Harris
4:21 PM on April 25, 2011
May the power of God continue to push you forward as you work in the kingdom of God.
Beverley
10:22 AM on April 25, 2011
Blessed be in the name of the lord. Please keep praying for your cousin, I need deliverance from all the blockage and suffering in my life oh merciless Lord. Keep up the good work.... Bev
Pastor Enos Wekesa Khamala
4:50 AM on January 18, 2011
Greeting Mighty warrior of God,Surely you are,From your website,I see a great woman of God with great virtue from the lord,Evagelist Lorna,Surely you are called apointe anoited for this very hour.Sister can we work together?We are a ministry in Kenya and have the passion to work in Building the body of Christ together,God Bless you mightly this is our ministry address,[email protected] or [email protected] website is coming out in some few days will let you kmow.
Blessed be the name of the lord.
Pastor Enos Wekesa.
Nakuru Kenya
ISAAC ADEYEMI (EVANG.)
7:25 PM on January 16, 2011
MAY GOD CONTINUE TO BLESS YOU FOR THE WONDERFUL WORTK YOU ARE DOING AT THIS END-TIME. PRAYER IS THE KEY TO EVERYTHING IN LIFE. WHAT A POWERFUL MINISTRY!
I PRAY FOR MORE ANOINTING AND GOD-ENABLEMENT IN YOUR LIFE IN JESUS NAME. TO GOD BE THE GLORY.
PLEASE MAKE ME ONE OF YOUR MINISTRY PARTNERS AND YOUR NIGERIA DIRECTOR.
THANKS AND GOD BLESS YOU.
keijo
12:41 PM on October 14, 2010
Godis great even this last time in salvation to lost and healing to difficoult sick and message about him will set the captive free in deed and joy and pleasure will enter in more an more,thanks and bless an bless with favor inGod,keijo sweden
Evangelist Lorna
2:56 PM on July 28, 2010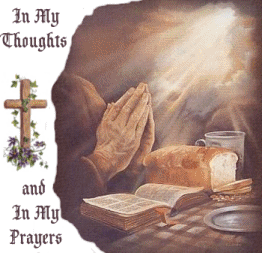 Delores

8:05 AM on May 6, 2010

I pray you don't take this the wrong way. But I saw as I was looking

this group over where it said Merry X mas. That leaves Christ out.

I use to do this until someone brought it to my attention.My I ask

please what Denomination this group is.I am really Interested in i.

God Bless,

Delores

Phillip Vineyard

12:53 AM on April 18, 2010

You truly are a Holy Ghost Filled woman. I am so blessed to have met you. Before meeting you, you prayed for my feet (after surgery). Up until that day, I was swelling over the tops of my shoes and my socks. I could barely stand. I want you to know that on that day, God removed all my swelling. Praise GOD!!! God did what the surgeons couldn't. There are many gifts of the spirit and I am fully aware that you have received the gift of healing. Thank you sister for your obedience and willingness to do the work of the Lord. I truly do love you and am praying for your ministry. May God bless, guide and keep you as you are about your Father's Business.

LadySusan

6:44 AM on March 1, 2010

May the God of Peace continue to bless this Ministry in the Mighty Name of Jesus

rosalyn

2:48 PM on January 27, 2010

thank you for the beautiful website...... it is soooooo encouraging......

may the lord bless you always....

love sister rosalyn

REV.FELIX HAGI

4:31 PM on January 17, 2010

Kairos 2010,20 is a number of expectation,10 is a number of completion,where u lack nothing,kairos is where divinity meets humanity where God override the chronos and help in the affairs of man.so 2010 stands for divine perfection.welcome to the year of divine perfection.every area of your life is going to be perfected this year.Amen

Lorna922 says...

The Lord bless you as you continue to work for HIM. Have a blessed week.

jesushyderabad says...

PRAISE THE LORD

THE PRINCE OF PEACE

MUSLIMS FOR JESUS MISSION INTERNATIONAL

PRAY TO GROW IN FAITH..

GOOD WEBITE

GOD BLESS YOU ALL

The Lord bless you as you continue to work for HIM. Have a blessed week.

Aina Karin Koks Jensen says...

Hello Woman of God!

I have been here and looking on your website. I want to thank you for all your good words and your blessings on Netlog. I wish you the very best in life and Gods blessings upon your ministry. Merry Christmas and a Happy New Year.

Thank you sis for taking the time to visit the site. God bless you amd have a wonderful day.

Aina Karin Koks Jensen

4:40 AM on December 22, 2009

Hello Woman of God!

I have been here and looking on your website. I want to thank you for all your good words and your blessings on Netlog. I wish you the very best in life and Gods blessings upon your ministry. Merry Christmas and a Happy New Year.

Kenty Omosa

4:38 AM on December 20, 2009

It has been a good moment for me going through your web Lorna and desire that one day the ministry reach many people in Africa-Kenya.

There are many altars of the devil raised need to be broken, in order Gods' people to be free and free indeed.

jesushyderabad

2:06 AM on December 20, 2009

PRAISE THE LORD

THE PRINCE OF PEACE

MUSLIMS FOR JESUS MISSION INTERNATIONAL

PRAY TO GROW IN FAITH..

GOOD WEBITE

GOD BLESS YOU ALL

Pastor Samuel Sebuliba

7:00 AM on December 16, 2009

hello woman of God,

Am honored to meet you.May the Lord use your ministry to touch lives and point many to His saving grace.

Greetings from Uganda

Rev.Srikanth

1:40 PM on December 10, 2009


Great ministry i blessed by visit we do pray for your ministry God bless you dear women of GOD

REV.SRIKANTH

Gerry

5:20 PM on November 24, 2009

I am looking forward to being a part of this ministry and receiving updates from it God bless you.,

Gerry

Patricia

5:03 PM on June 3, 2009

As we work to make this world a better place, we must work in preparation for our journey to the next one..Let us give all glory to God and praise His name in all things...Let us give thanks to Him for all he does for us...Let us remember that the way to fhe Father is through the Son, Jesus....

bill

2:26 PM on June 1, 2009

the end time is near..to we it may be like a thousand or million years to come but to God is like a bling of an eye..we need to be ready but not wasting preciuos day which is a chance to repent and also give up to him..we should remeber there will be no excuse during judgement day.

Sharon

5:40 PM on May 22, 2009

Thank God for people who are committed to standing in the gap and possessing the gates of the enemy. Shout of praise to the Most High for all intercessors.

victor dey

5:42 PM on May 7, 2009

i wish all blessed mums out there could do the same, for its a chance in connecting to the almighty father and extending his words out there, for who knows the wonders behind..

jacob

4:59 PM on February 27, 2009

sweet haert keep doing the work that God has called you to your reward is in heaven, may God bless u. jacob.

MinisterJaycee

5:40 PM on February 24, 2009

May the Lord continue to guide you, lead you, provide for you and encompass you with his love and his will for your life for you have yielded your vessel unto him, and he is getting the glory out of your life. Love you sis!

Jackie D

10:34 AM on February 24, 2009

HI sis how's it be with you ? Peeking in to show you love and hugs. I LOVE YOU MUCH SIS..... ( ALWAYS ) Hugs Jackie D (FROM LOUISIANA )

Lorna922

1:18 PM on February 21, 2009

Woman of the Word says...

Very nice website, sis! It truly is worthy of the ministry to which God has called you. The Lord bless you richly! Go to your destiny! Thank you Woman of the Word. By Gods grace I will make it to my next destiny. Thank you for being in my life.

Woman of the Word

1:09 PM on February 21, 2009

Very nice website, sis! It truly is worthy of the ministry to which God has called you. The Lord bless you richly! Go to your destiny!

Lennox Michael Corry

4:11 PM on February 14, 2009

I WAS INVITED BY LORNA TO VIEW THIS WEB SITE I LIVE IN THE ISLAND OF TRINIDAD,AND I LIKE TO PAY ATTENTION TO THE DEVELOPMENTS AND DETERIORATION OF THE CHURCH OF GOD TO LEND A HAND IN BOTH UPHOLDING THE HANDS OF THE UPWARDS AND LETTING DOWN A HAND FOR THE SINKING,MY SLANT IS A NEW FLAVOR TO MOST PEOPLE,BUT IT IS ALL SOUND DOCTRINE FULLY IN HARMONY WITH ALL THE POLICIES AND PRINCIPLES OF THE THOUGHTS OF GOD,MY SLANT IS CALLED "PSYCHOLOGICAL THEOLOGY" AND I POST UP BLOGS ON http://www.ourmotives07.blogspot.com ANY ONE IS WELCOME TO PRAYERFULLY READ AND UNDERSTAND THE NEED FOR SUCH TYPE OF COMMUNICATION IN THESE DYING HOURS OF THE EARTH'S HISTORY,I BELIEVE THE BIBLE WHEN IT SAYS THAT IN THE LAST DAYS KNOWLEDGE WILL INCREASE, SO PHYSICAL AND SUPPOSED TO BE SPIRITUALLY MORE SO,AFTER ALL GOD IS SUPER INTELLIGENT AND IF THE PUNY MINDS OF MEN ARE SO EXCELLENT IN GREAT PRESENTATIONS OF VARIED TYPES OF KNOWLEDGE WITH CLEARNESS AND FLEXIBILITY,FOR AN EVIL PURPOSE,WELL THE PEOPLE OF GOD OUGHT TO BE WAY ABOVE AND AHEAD IN REALITY,ACTUALLY CONFOUNDING THE SO CALLED WISE MEN,WITH THE STRENGTH, BEAUTY AND THE EXCELLENCE OF THE SPIRITUAL TECHNOLOGY OF GOD,COMMONLY CALLED THE PLAN OF SALVATION. I DON'T HAVE ANY LONG INITIALS BEHIND MY NAME BUT THE ONE I CALL, B.A. (-BORN AGAIN-) BUT ALL HAVE EQUAL OPPORTUNITY TO BE THOUGHT BY THE SPIRIT OF GOD,AND TO QUALIFY FOR SUCH MERELY REQUIRES THE APPROPRIATE RESPONSE TO THE CALL OF REPENTANCE AND IT ALL STARTS THERE,AND I SAY THIS NOW,THAT GOD CAN TEACH ANY ONE ANY THING IN A MOMENT,WHICH SOME SPEND THEIR ENTIRE LIFE TIME TRYING TO LEARN,SO THIS IS GREAT HOPE FOR ALL,NON IS HIGHER THAN THE OTHER,WE ALL ARE BABES TO THE MIGHTY GOD,GIVEN A GREAT PRIVILEGE TO BE CO-LABORERS WITH GOD IN THIS FIELD, MAY GOD BE ALLOWED TO RULE IN OUR PSYCHE TO FORM RIGHTEOUS CONCLUSIONS IN EVERY AREA,AS DID CHRIST.OUR EXAMPLE. AS IT SAYS IN THE SCRIPTURES "let this mind (The Holy Influncive Reasoning Pattern Of God)be in you that was also in Christ Jesus" Bye for now.

Prophetess Bea Agessa

5:43 PM on January 23, 2009

lam soooooooo blessed to have known Lorna and visited this site,l know many things will happen when we pray,wonderful work sister,keep the fire burning. Hugs and love of God my dear sister Lorna

Jackie D

4:01 PM on January 10, 2009

Hi sister just sending you some love your way....... Hugs and much love Jackie d

Woman of the Word

11:42 PM on January 7, 2009

Sister Lorna, this is a wonderful website. It reflects the wonderful anointing on your life. Keep on with the Lord's work, my sister! I love you dearly. Woman of the Word

eff Godsown

5:33 PM on January 6, 2009

Keep serving the Lord with your whole heart my sweet sister

Brenda Mauger

11:18 PM on January 5, 2009

Thank you Lorna for inviting me .God bless you :roll:

victoria Tuchman

7:26 PM on January 1, 2009

lorna, it is my honor, to share my prayers here with all your members, i do hope it helps to encourage their walk with Jesus, and build their faith and trust in Him as well. God bless Victoria

Apostle Stacey Woods

7:49 AM on December 29, 2008

PRAISE THE LORD EVANGELIST LORNA! The Lord bless you richly today. I pray that you continue to grow and prosper in the things of the Lord. If you should ever need me, I'm just a website away lol.

Jackie D

7:42 PM on December 27, 2008

Hi sis love you much Hugs and much love Jackie d

Jackie D

11:45 AM on December 23, 2008

Good morning sis How are you ? just checking in to send you some love and hugs your way....... Love you much Jackie d

lilieth

11:01 AM on December 17, 2008

beautiful i love this site

april Cantrell

10:18 PM on December 14, 2008

Wonderful site May all be blessed the enter and may the not leave the same in Jesus name

Jackie Dozier

10:02 PM on December 14, 2008

]Hi sis it's just me checking in on your site...... from what I seen so faron the site I just love it hear.... and you already know I love you sis..... (((((( always )))))) Hugs and much love Jackie Dozier

Minister Asharan Paul

4:49 PM on December 12, 2008

your testimony "i am moving you" was a blessing to me and also confirmation from God. Thank you for your obedience to yielding to His spirit. It was as if God spoke directly to me through this. I praise God for you and thank you so much for allowing me to become a part of your life. I love you! Praise God, He is doing a mighty work in your Ministry.

Elizabeth Wallace-Hunt

8:01 PM on December 8, 2008

Thank you for the tour, it is a lovely site. I would like to be cosidered for membership. What are the rules and what is the criteria? God Bless You

Marcia Ellis

10:21 PM on December 6, 2008

Thank God for this site, where we can make our request be known so that others can pray.God Bless you richly, for such an inspiring thoughts. Continue to do the will of God and you will be rewarded richly. love you big sis Lorna.8)

Tarina Harrell

8:57 PM on December 2, 2008

beautiful site. God bless you and all you do. Thank you for your talks and your friendship. I love you and so does God.

benjamin

3:01 PM on December 2, 2008

MERRY XMAS TO EVERYONE IN THIS MINISTRY

Christopher

12:28 PM on December 2, 2008

Evangelist Lorna You are the best, keep up the good work by laboring for the Kingdom, God Bless You real good. Christopher

Minister Jaycee

7:22 PM on December 1, 2008

Elder Lorna, God bless you woman of God ! I just want to thank you for all your prayers and dedication in the kingdom of God! I am thanking you for all the other people of God (and myself), that dont have a chance to thank you. I love you and appreciate the God in you. Jesus reigns, Jesus is the truth and all truth lines up with him.. I love you dearly! Your sis, Minister Jaycee I will be to Georgia soon!

BISHOP DESINATE WOODRUFF

12:34 PM on December 1, 2008

GOD BLESS BABY GIRL. JUST STOP BY TO SUPPORT YOU STAY BELSSED. MOM

Rev.Dr.P.Thimothy

12:06 PM on November 29, 2008

Dear Lorna, Greetings to you in the name of our LORD JESUS CHRIST. your prayer network programme is very nice God is useing you very powerfully . i need your prayers this month, because we are planing to start a new project that is a small hospital for HIV. in our villages i found so many people are suffering from AIDS with that inosent childern also having HIV effect. for that reson i and my children and also my ministry members desided to start a small hospital for HIV we need sponsors for this reson . so kindly pray fro this . and also tell about this to your friends.

RENEE

2:56 PM on November 28, 2008

My Dear Sister Lorna Just want you to know how grateful I am to have had God place you in my life. One only desire to have such a person to lean on but I have the pleasure of knowing one. May God continue to bless you and heaven smile upon you.....for you are truly God sent in my life. May you accept these words of flowers for one should smell them while they are yet still fresh.

Benjamin

1:07 PM on November 28, 2008

HEY MUM, FOR YOUR EFFORT TO SPREAD THE TRUE WORD OF GOD AND TO BRING FREEDOM TO THE ONES YOU MEET ONLINE, YOUR REWARD IS IN HEAVEN

Marilyn

7:11 PM on November 27, 2008

lorna what nice site bless you for starting this u are in my heart u are blessed !!8)

Erlinda B. Montez

10:35 PM on November 26, 2008

Thank you so much for Praying for my grandson Justin and my daughter Jessica on their way to Tenn. from M.O. to visit with her prodigal son after a year being locked up in the country jail first time, and now wanting the return of his dog (Drex) back to him.............I have Faith these people will hand him over with no problems or trouble without the police getting involved........AMEN! THANKS LORNA FOR YOU BEING AN INSPIRIATION to me and taking this to God in your own prayer closet you are so loyal...........AMEN! God's Blessing upon you and your's..........

LORNA

10:34 PM on November 26, 2008

HAPPY THANKS GIVING TO EVERY ONE VISITING MY PAGE.

LILIETH

10:27 PM on November 26, 2008

I JUST DROP BY YOUR PAGE TO SAY HI WATS UP MY SISTER:D

Marji

9:33 AM on November 24, 2008

Wonderful site my sweet friend :)

Patti

8:45 PM on November 23, 2008

Hi Lorna, Patti16 from Grab here to visit your site. I will be back again for sure. Please keep my family in your prayers...it has been hard over the loss of my daughter..as u know. Time! But your prayers will be an immense help. Thx. a million. God Bless you...u my sweet friend Lorna. Patti

Patricia

7:30 PM on November 23, 2008

Stopping in to say hello and to wish you much continued success with this fine site...Patricia

Co Pastor Val

11:12 PM on November 18, 2008

Praise GOD WITH ME My GMC JIMMY has not been working for about 2 months maybe a little longer. I told God: Father I don't have a way to get this fixed so what am I to do? God you will have to take care of it. And I left it at that and once in a while I would remind Him. and Today oh glory hallelujah thank you Jesus. It got put on a trailor and took to the shop. Someone else is going to pay to have it fixed. Oh glory. and I didn't have to go and ask them they asked me if I had the truck fixed yet and i said no and this person said they would take care of it. oh how great is God to go and work this out for me. OH THANK YOU JESUS GLORY GLORY. Oh HE IS SO GOOD.

Ingo

3:40 PM on November 18, 2008

Thank you Lorna for your mail via ning. You may want to make use of the Word of God by posting them daily into your blog on this Homepage of yours. The full basket of divine food can be found under http://www.bertha-dudde.info/english/wordofgod/07_html/en_1000.html The use is free and the revealtions are divine food which gives strength to any soul which reads it under prayer with an open heart. In His Love Ingo

lilieth james-linton

3:15 PM on November 18, 2008

you are a SPECIAL WOMAN OF GOD THAT THE LORD CALL OUT FOR A TIME LIKE THIS THANK YOU WOMAN OF GOD THANKS FOR THE PRAYER ROOM HOPING IT WILL OPEN EVERY DAY I LOVE IT SO MUCH I LEARN A LOT ION THIS ROOM I TOLD EVERY ONE OF MY FRIENDS ABOUT IT AND THEY PLAN ON COMING ON STREAM TOO

Kane Walker

6:02 PM on November 17, 2008

Beautiful site.GBU

KATHY

10:23 PM on November 15, 2008

pray for my sister

called out_1

8:42 PM on November 15, 2008

Hi Lorna, may the lord bless you as you follow him. praying always one for the other.....amen

g

9:44 PM on November 14, 2008

be bless sis...this a beautiful site... -g-

Kathleen

7:55 PM on November 10, 2008

Kathleen_K here, stopped from Paltalk to say Hello...such a Joy to see your site!

lorna922

5:37 PM on November 10, 2008

WELCOME TO MINISTRY OF PRAYER GUESTBOOK. PLEASE SIGN BEFORE YOU LEAVE. IT WAS A PLEASURE HAVING YOU.

0

/